Must Reads For The Week 4/25/20
F. A. Hayek stated: "The coordination of men's activities through central planning or through voluntary cooperation are roads going in very different directions, the first to serfdom and poverty, the second to freedom and plenty."
If we put this into a form of a question it would read something like this:
How will men's activities be coordinated? Through the decision making of individuals? Or through the decision making of elite central planners?
The Covid 19 panic and corresponding political power grab has shined the light on this question. And how this question is answered has shaped the history of the world since the beginning. It is the fight between Liberty and Tyranny.
Our countries founding was the closest we will ever come to individual liberty. As time has passes we have incrementally moved away from individual liberty and toward tyranny of central planners.
Put another way. Should individuals make decisions for themselves and take on the responsibility and risks of those decisions. Or should "experts" make decisions for all individuals, never having to accept the risk and responsibility when the consequences of their decisions do harm to individuals.
Thomas Sowell poses the question this way: "The question is not, what decision to make? The question is;  Who is to make the decision? Under what incentives and constraints? With what feedback mechanisms?
Let's look at some articles that illustrate the age old fight between who should make decisions. Individuals or central planning "experts".
TYRANNY BY POLITICIANS AND EXPERTS
Police Are Using Drones To Enforce Social Distancing In America's Backyards, by Chrissy Clark, at thefederalist.com.     Connecticut Tests 'Pandemic Drone' To Ensure People Are Social DIstancing Properly, by Sarah Taylor, at theblaze.com.    Here are two articles showing the use of drones to spy on citizens. Here is an excerpt from the first article:
"Drone invasions on private property clearly violate the 4th Amendment, and no new laws exist to govern the use of surveillance technology by police departments. Police departments across the nation are taking drone usage upon themselves to violate American liberties in the name of social distancing guidelines, even on private property."
AI Social-Distancing Enforcement Tool. "You Will Be TRACKED", at daviddrakesplace.blogspot.com.    Watch the short video showing how this technology works. It is scary.
Documents Reveal Feds Are Excited To Create A Mass Surveillance Network, at zerohedge.com.    It is scary to think how technology is being used in the surveillance of citizens.
Undercover Cops Arrest 2 Women For Operating Home Beauty Businesses In Violation Of Coronavirus Lockdown Order, by Christian Britschgi, at reason.com.   Social distancing "rules" are broken when cops arrest people. And even more so when these people are put in jail. I guess the thinking is; I will put you at risk of getting coronavirus to stop you from putting yourself at risk of getting or spreading coronavirus. But I think this is a show of force to try to intimidate others from breaking the arbitrary decrees of Government.
More From The "New Normal", (In 50 'Darker'Headlines), at zerohedge.com.   Here are a list of examples of government.
We Didn't Flatten The Curve, We Flattened The U. S. Health Care System, by John Daniel Davidson, at thefederalist.com.    We were told the lockdown was to prevent the medical system from being overwhelmed. The system hasn't been. So lets stop the lockdown.
Business Owners Understand Why The Economy Can't Just Be "Reopened", by Christopher E. Baecker, at mises.org.   Excerpt from the article:
"Certainly "economies can be rebuilt," but assuming it'll just happen reflects a level of flippant naiveté similar to that which supposes that entrepreneurs should factor government-shutdown-by-fiat into their risk calculation."
The Destructive Effects Of The Coronavirus Relief Package, By Thorston Polliet, at mises.org.     Government spending and money printing don't solve economic problems. In fact they cause the economic problems they are trying to solve.
Here Are The Publicly Traded Companies That Quietly Got A 'Small Business' Bailout, at zerohedge.com.    There is no shortage of people getting in line to get their hands on government (taxpayer) money.
Illinois Senate Democrats Seek Massive Federal Bailout For State, Going Far Beyond Coronavirus Impact, at zerohedge.com.    States are trying to use the coronavirus to get out of their massive debt problems. Of course at taxpayers expense.
American Farms Cull Millions Of Chickens Amid Virus-Related Staff Shortages At Processing Plants, at zerohedge.com.   At Least 10 Meat Packing Plants Closed In Weeks Across America Stocking Food Shortage Fears, at zerohedge.com.     I wonder if the "experts" thought of this situation when they decided to shut down the economy. This could have drastic consequences.
Top Elections Lawyer: Vote-By Mail Is "The Most Massive Fraud Scheme In American History, at zerohedge.com.     No comment necessary.
The Unseen Death Toll Of Covid-19 Measures, at mcclintock.house.gov.   I guess the deaths caused by Governments response to Covid-19 aren't important. We don't understand trade offs.
Anthony Fauci: When Politics Trumps Science, by William L. Anderson, at mises.org.              How did Dr. Fauci become THE Oracle when it comes to this disease? Is he the only immunologist in the country?
Excerpt from the article:
"To understand Anthony Fauci, one must understand progressive ideology, and in order to best understand progressive ideology, one needs to read Ludwig von Mises's book Bureaucracy. The book itself is not about progressivism—indeed, Mises doesn't mention such a philosophy in his book—but it does explain the decision-making processes that dominate bureaucracies and guide bureaucrats like Fauci. And Fauci is nothing but the consummate bureaucrat, albeit one that can speak in front of a television camera."
"Progressives share the belief that markets, although they are good at producing useless goods, such as the too many deodorants that Bernie Sanders denounced on the campaign trail, simply cannot lead a great nation, are cumbersome, and have no mechanism by which to meet the real needs of people in society. Experts are needed to guide people in what they should have, from food to clothing to transportation to medical care, and then to lay out the plan for how people should obtain these things."
"Mises writes that bureaucracies exist to carry out the directives of those in political power and not to engage in policymaking themselves. However, after more than a century of progressive rule the bureaucracies themselves have become the chief instruments of government power, as men like Fauci, with their anticapitalist mentalities and their single-minded approaches to life, are calling the shots. Although most people instinctively understand risks and tradeoffs, public health bureaucrats like Fauci tend to believe that the only thing that matters is the eradication of whatever is coming, no matter what the cost."
The Real Reason Why A Harvard Professor Thinks Homeschooling Should Be Banned, at zerohedge.com.   Children are being taught at home because schools are shutdown. This scares progressives like Harvard Professor Elizabeth Bartholet. Progressives want to indoctrinate your kids under the guise of teaching democratic values and social justice.
Excerpt from the article:
"Ironically, the real problem Harvard Professor Elizabeth Bartholet has with homeschooling is this:  "Many homeschool because they wan to isolate their children from ideas and values central to our democracy."
"Let me rephrase that. Homeschooled children can't be indoctrinated five days a week, eight hours a day, by an education system that emphasizes political agendas. (And incidentally, our form of government is a constitutional republic. Shouldn't someone from Harvard who is worried I might not have the knowledge to educate my child know something as elementary as that?)"
"Bartholet defames homeschoolers for wanting to encourage their children toward a particular belief system while touting the belief system that the school system wants to instill. So it's okay for the public school system to do it, just not for the parents to do it."
"While Bartholet scorns parents who indoctrinate their kids, she praises the school system for doing so. The American education system is wholly responsible for raising a generation of perpetually offended people who think they're open-minded but who actually are only accepting of those with the same beliefs."
"They're creating a generation of worker bees, of dependent people who'd never dream of revolting against the status quo shown as ideal by Hollywood and the mainstream media. They're creating adults who don't know how to handle conflict, who don't know how to deal with defeat, and who are regularly fearful of imaginary threats. People who are afraid of a tripod or a pop-tart chewed into the shape of a gun certainly aren't going to be leading the next revolution."
AOC Deletes Gleeful Tweet On Oil Industry's Coronavirus Collapse, 'You Absolutely Love To See It, by Douglas Ernst, at washingtimes.com.     She said:   "…..this is the right time for a worker-led, mass investment in green infrastructure to save our Planet."
So lets think about this. At a time when the price of oil is the lowest it has been in decades. She wants to invest in green energy that is more expensive than what oil was at $60 dollars a barrel let alone what it is right now. So did she really major in economics?
AOC Says People Should Refuse To Work After The Economy Reopens, Breck Dumas, at theblaze.com.     No comment needed.
Cuomo To Struggling Unemployed: 'You Want To Go To Work? Go Take A Job As An Essential Worker', by Breck Dumas, at theblaze.com.     In other words: "Your job isn't essential you loser. I decide what is essential."  What an arrogant ass.
California Mayor Says Death May Await Shutdown Protesters Who Violate 'Social Distancing' Laws, by Dave Urbanski, at theblaze.com.    Speaking of arrogant asses. Here is what the Mayor said:
"Make no mistake people who deliberately violate the social distancing laws, and the laws requiring that we all wear a mask will be identified, arrested, and prosecuted."
"Do not mess with us. You will not endanger the lives of our hardworking fdmilies because of some misguided civil liberties argument."
"The quote is: Give me Liberty or Give me Death. Being arrested and locked up in an over crowded jail just might result in granting you your wish."
Dems Plan To Censure Michigan Lawmaker Who Said Trump's Boosting Of Hydroxychloroqine 'Saved My Life', by Andrew O'Reilly, at foxnews.com.   You must tow the party line or else.
These are examples of big tech controlling the narrative. Why do these tech guys hate the free market economic system that allowed them to start small and ultimately become the captains of the tech industry?
Twitter Suspends Account Of Biotech Company Testing UV Light To Treat Coronavirus, at zerohedge.com.
Facebook Bans Civil Disobedience, Removes Posts Organizing Anti-Lockdown Protests, at zerohedge.com.
Twitter CEO Unveils Feature To "Editorialize" Trump's Tweets As Election Looms, at zerohedge.com.
Did Mark Zucherberg Just Expose Bit-Tech's Real Endgame? Ousting Trump, at zerohedge.com.
Bill Gates Continues To Push 'Immunity Passports' And Tech-Enabled Surveillance State To Combat COVIC-19, at zerohedge.com.
FIGHTING FOR LIBERTY
Wisconsinites Storm The Capital In Protest: We're Done Staying Home, by Kylee Zempel, at thefederalist.com.
Two Hair Solon Owners In Auburn Ca. Defy Stay-At Home Orders, Both Reopen To Pay Bills, by Bridgette Bjorlo, at fox40.com.
Michigan Legislature Bucks Gov. Whitmer, Votes To Repeal Emergency Powers, by Tim Pearce, a dailywire.com.
Thousands Of Californians Flock To Open Beaches Despite Gov. Newsom's Pleas Fo Them To Stay Home, by Lauren Fruen, at dailymail.co.uk.
Constitutionalist Sheriffs' Won't Enforce Coronavirus Restrictions, by Zoe Nemerever, at greenwichtime.com.
Coronavirus Crisis: Bill Of Rights Protects Our Freedom, by Victor Davis Hanson, at nationalreview.com.   Excerpt from the article:
"In this current crisis, the longest if not the first complete shutdown in U.S. history, the freedoms of American democracy are being tested in ways we scarcely ever imagined. Out of nowhere little Napoleonic governors arise to enact decrees prohibiting gardening or strolling on an empty beach — decrees that seem to have little purpose other than to reflect that they can do so. Snitches volunteer to out felonious social deviants who are seen cooking in the backyard with a neighbor. A little horned-devil virus seems to be trying to do what those Russkies never could."
"Experts with all sorts of Ph.D.s, M.D.s, and J.D.s after their names lecture from authority about what we must right now do — or else! — on the principle that they have a scientific or technocratic prerogative to impress critics of their modeling or their demand that we shut down a $22-trillion economy for "18 months," if need be."
"A supposedly disinterested media — found by media watchdogs to be 93 percent negative in its presidential reportage before the virus crisis — envision their coverage of the Trump demon as an endless zero-sum game in which any morsel of good news for him is instantly bad for them."
"How fortunate, then, that in this current crisis, when one questions the logic of using a misleading denominator to ascertain viral lethality, and thus the logic of basing existential public policies on resulting case-to-fatality rates that admittedly cannot be true, one can (at least for now) keep raising skepticism without being sent to a Chinese-like reeducation camp."
"We are witnessing the fading moments of Baby Boomer–generation authority. As it vaporizes, it still cannot fundamentally change America with sermons that we "will never go back to normal," a synonym for "we don't like lots of things in that bothersome Constitution." America is currently engaged in a free-fall of angry, unfettered discussion about everything from the wearing of masks to the efficacy of hydroxychloroquine. Tempers rise; false knowledge replicates. Smack-down arguments from authority grow shrill. And, thank God, it all remains legal. Out of the mess, the acrimony can lead to light rather than endless heat."
"Warn an American that he poses a public threat by illegally and solitarily launching his tiny boat on a nearby empty pond to fish, and he's likely to do just that — and thereby reveal the absurdity of the functionary who issued such a tyrannical order."
"Tell a pastor he can't preach from his car to other car-bound parishioner and, by God, he will do just that — and will be praised by most for his measured civil disobedience."
"Let criminals out of jail, and what's a paranoid American city-dweller to do? Obviously head down to the gun store and get in a line for something that shoots something, now for the first time in his life bitching in extremis that gun laws he once found wonderful are far stricter than they should be."
"Authoritarians and petty fascists, eager to issue endless edicts, molt their exoskeletons, as if under their chrysalis suits they were always caudillos, waiting to be reborn with sunglasses and epaulettes. But a free and empowered people, even in times of mortal danger, long nursed on a Bill of Rights, is hard to subjugate or shut up, even after over a month spent locked up in their homes. Thank God, we have a Constitution quite different from those of European nations, which are themselves far superior to other alternatives."
"In these strange times, American individualism and the Bill of Rights that birthed it are still proving, for a while longer, too strong for the natural forces of fascism masquerading as "we had to destroy freedom to save it."
SATIRICAL HEADLINES
Trump Says To Drink Lots Of Water, Media Reports He Told Everyone To Drown Themselves, at babylonbee.com.
Majority Of Americans Would Rather Risk COVID Death Than Endure Any More Skype Lectures From Celebrities, at babylonbee.com.
AOC Drops By Unemployment Office To Tell People How Lucky They Are Not To Have Oppressive Jobs, at babylonbee.com.
Pope Says Driving SUV Is An Unpardonable Sin, at babylonbee.com.
Former Clinton Adviser Calls On Biden To Withdraw Over Assault Allegations, at daviddrekesplace.blogspot.com.
CARTOONS
from theburningplatform and therightreason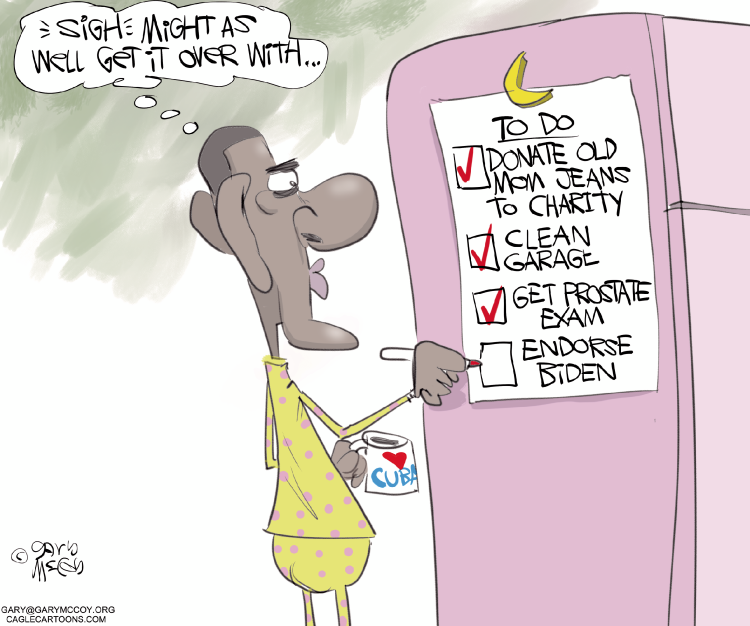 Explore posts in the same categories:
Must Reads For The Week
This entry was posted on April 27, 2020 at 11:56 pm and is filed under Must Reads For The Week. You can subscribe via RSS 2.0 feed to this post's comments.
Tags: Anthony Fauci Expert, AOC Wants green infrastructure, babylonbee, Bill Of Rights Protects Our Freedoms, Californians flock to Beaches, Cartoons from theburningplatform, Cartoons from therightreason.net, Central planning vs. Voluntary Cooperation, Coronavirus Exposing Tyrants Everywhere, Coronavirus Relief Package Destructive, Cuomo: Get an Essential Job, Experts, Facebook, Gates Immunity Passports, Harverd Prof. Wants Homeschooling Banned, Liberty vs. Tyranny, Michigan Legislature Bucks Gov. Whitmer, Police Drones Surveillance, Processing plants closing. Food Shortages, Satirical Headlines, Social-Distancing Enforcement, States Want Bailedout of Debt, Surveillance State, Twitter Bans Anti-Lockdown Protests, Victor Davis Hanson, Vote Fraud via Vote by Mail, Wisconsin Lockdown protest
You can
comment below
, or
link to this permanent URL
from your own site.