Must Reads For The Week 1/19/19
What Generation Z Learned From Millennials: Skip College, by Andrew Moran, at libertynation.com. Millennials have become debt serfs because they believed the lie that you can't be successful unless you have a college degree. Millennials are literally paying for this mistake. Hopefully others will learn from this.
Why The Los Angeles Teachers' Strike Is Different, by Alia Wong, at theatlantic.com. Excerpt from the article: "Rodolfo Duenas, an L.A. native and public-school teacher who is picketing, describes this burgeoning movement as a natural next step for the many Latinos like him whose activism can be traced back to the mid-1990s, when thousands of Latino teens staged a school walkout in opposition to an anti-immigrant state-ballot initiative known as Prop 187…….those experiences eventually drove them into teaching. And Duenas's generation has been following in the footsteps of the Latino education activists who came before them, during the 1968……Mexican Student Movement."
Successful Title IX Complaint Forces Tulane University To End Gender Discrimination, by Mark J. Perry, at carpediemblog. Tulane has agreed to stop discriminating against male students. The Department of Education Office of Civil Rights found some of their scholarships violated Title IX after a complaint was filed. Title IX prohibits sex discrimination. It was originally passed in 1972 to help women. Like all laws, it has been used for purposes it was not intended. Now the pendulum is starting to swing back.
And The Most Politically Biased Profession Is….., at zerohedge.com. This is based on donations paid to political parties by different industries. No shock that media, entertainment, academics, and online computer services are way to the left. Or that agriculture, mining, and construction are mainly to the right. While banking and finance, hedge funds and private capital, and lobbyists are split down the middle. What does this tell us. Those industries from the right and the middle are paying money to politicians in order to be protected from the coercive power of government or to receive favors from government. Can we agree that if government has power to help or hurt your business, it has too much power. On the other side, media, entertainment, academics, and online computer services are information industries. They are not just paying for protection (even though they don't need protection because they are protected by the first amendment) they are paying to push the big government central planning agenda that they truly believe in. These information industries gladly push the leftist agenda on their information platforms. The other industries don't have an information platform to try to push an agenda. In fact these industries have to hope the biased "information industries" don't lie about them.
Socialism's Three Disciples: educated Idiots, Uneducated Idiots, and Evil Puppet Masters, by Shane Kastler, at targetliberty.com. Excerpt from the article: "Isn't a system based on free trade preferable to government controlled trade? Would we not prefer to make our own decisions, rather than handing them over to a 3rd party state apparatus? What about property rights? The capitalist is often legitimately perplexed as to why a socialist would push for more and more government control over life, liberty, and property rather than keeping the rights of self-reliance under our own control. The answer to this socialistic enigma finds its genesis in three groups of people: the over-educated ignorant; the under-educated ignorant; and the puppet masters in power who convince them of Socialism's benefits. At the end of the day it is the puppet masters who benefit the most; but they need the proverbial "useful idiots" to stir up a crowd, storm the capitalists, or stuff the ballot box. America is in danger of this happening today."
Imagine If The Media Had As Much Sympathy For Small Business Owners As It Does For Federal Employees, by Ryan McMaken, at mises.org. The media never cared about  small business owners and their employees who were hammered when the Fed induced housing bubble crashed in 2008. They also didn't care when these same people got hammered again when Obamacare kicked in and insurance prices "necessarily skyrocketed". But I guess federal employees are more important than small business owners and their employees. Even though small business owners and their employees are the ones who pay government employees salaries, their benefits, and their retirements. Heck, tax payer money pays the taxes these government workers pay to the government. Quit your complaining. It is falling on deaf ears.
Decentralization Is The Solution To The Government Shutdown, by Ryan McMaken, at mises.org. Shrinking the size and scope of government is the solution to this problem.
Shutdown 'Crisis'? by john Stossel, at townhall.com. The Government shutdown is not a "crisis". Even though politicians and their media get away car drivers, are trying to portray it as a "crisis". We know they can never let a serious crisis go to waste. The government is not the economy. Government exists as a parasite on the private sector economy. If the private sector economy produces $19.4 trillion in GDP. And the federal government spends $4.4 trillion, all of which it confiscates from the $19.4 trillion produced by the private sector. Which is more important in the production of the standard of living existing in our country today? Is it the $19.4 that the private sector produces, or the $4.4 trillion that the federal government steals and spends?
Pelosi Shrieks After Trump"Leaks" International Sojourn: Trump Dings Dems Over Shutdown Excursion, at zerohedge.com. The fact that Trump wouldn't allow Pelosi and her gang to use military air craft for their trip is why I like Trump. He has turned the tables on the Democrats. He treats leftist politicians just as they have treated republicans for four decades. And it is funny to see them not be able to handle it. How does it feel.
The Sneaky Ways That the Democratic House Can Raise Taxes, by Veronique, de Rugy, at economicpolicyjournal.com. Hopefully the House freedom caucus can warn us about this so we can warn the GOP controlled Senate.
Pelosi Fiddles While The Democrats Burn, by Tom Lugono, at zerohedge.com. Socialists in the Dem. party who are not afraid to espouse their ideology are going to be a big problem for Pelosi to deal with. This will be fun to see how she juggles all these balls without dropping one of them.
BP Discovered A Billion Barrels Of Oil In Gulf Of Mexico, by Ton DiChristopher, at cnbc.com. There is a finite amount of oil in the earth. But with every new discovery, may we assume that this finite amount is so large that we may never run out of oil? Even if the depletion of oil will happen far into the future, we need not worry about it because technology and the free market will come up with the cost effective replacement when the time comes.
Race-Baiting CNN Analyst Slams Host For "White Privilege", Then Discovers He's Black, at zerohedge.com. David Webb got a surprise when he was interviewing CNN analyst Areva Martin. She accused him of "White Privilege", except he is black. Listen to this, it is priceless.
SATIRICAL HEADLINES
Presumptuous Congressional Freshman Thinks She Can Just Come In And Represent Constituents, at theonion.com.
Homeschooled Kid Graduates High School 5 Months Before Birth, at babylonbee.com.
Poll Shows Increasing Number Of Voters Blame Founding Fathers For Starting America, at theonion.com.
"Absolutely Nothing Happening Today,' Says CNN Reporter Gesturing Toward Massive Crowd At March For Life, at babylonbee.com.
Report: Economic Toll Of Government Shutdown Almost As Bad As Economic Toll Of Having A Bloated Federal Government In The First Place, at babylonbee.com.
Least Masculine Society In Human History Decides Masculinity Is A Growing Threat, at babylonbee.com.
Poll Finds Most People OK With Raising Taxes On Other People, at babylonbee.com.
CARTOONS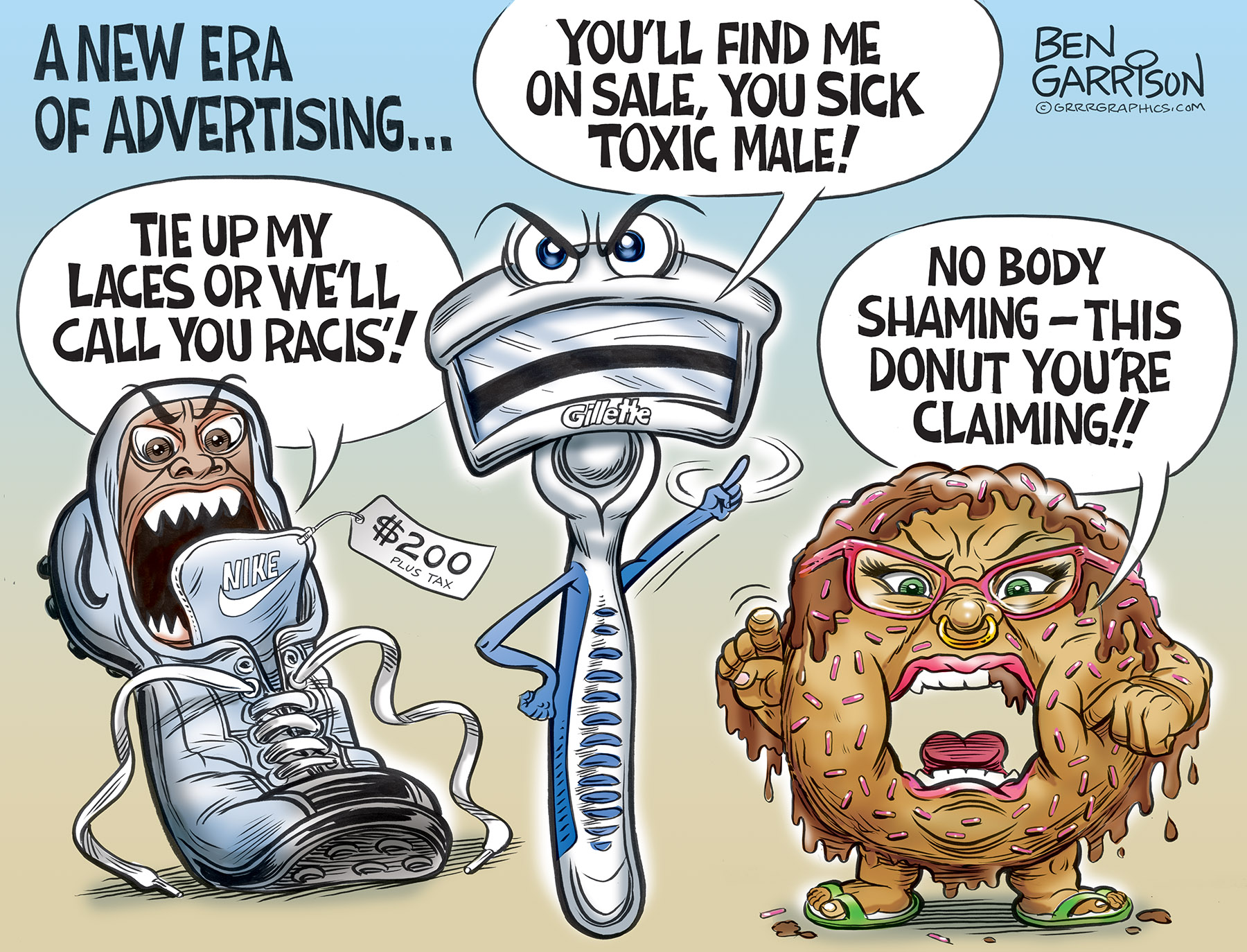 Explore posts in the same categories:
Must Reads For The Week
This entry was posted on January 21, 2019 at 3:00 pm and is filed under Must Reads For The Week. You can subscribe via RSS 2.0 feed to this post's comments.
Tags: Abolish The TSA, and Evil Puppet Masters, BP Discovers more Oil In Gulf, Cartoons from The Burning Platform, CNN Analyst Says Black Host Has White Privilege, Decentralization Is Solution To Government Shutdown, Government Hates Small Business Owners, Government shutdown, House Dems Can Raise Taxes, Is College Worth It, LA Teachers Strike, Media Loves Federal Employees, Most Politically Biased Professions, Pelosi and Democratis Party Caos, Satirical Headlines, Socialism Needs Educated Idiots, Trump Cancels Pelosi Trip On Military Planes., Tulane Forced To End Gender Discrimination, Tulane Title IX Complaint, Uneducated Idiots
You can
comment below
, or
link to this permanent URL
from your own site.