Must Reads For The Week 2/16/19
FAKE NEWS
Obvious Hoax Unravels – Jessie Smollett Facing Heat For Fake Assault Claim, at theburningplatform.com. This guy thought he was going to be protected by the mainstream media and leftist politicians. Why? Because this story fit their narrative. Unfortunately for Smollett facts are stubborn things. His story started to unravel as evidence started to surface. Will the truth about this fake attack get as much media coverage as the original fake story received from the main stream media? No! The original story served its purpose. Smollett, the main stream media, and various politicians will not be held accountable for the hoax or spreading the hoax.
Spreading The Fake Smollett "MAGA Country" Hate Crime: A Mainstream Media Montague, at zerohedge.com. Watch a montage of the media's coverage of the original event. The rush to push a fake narrative without finding the facts is standard operating procedure for the "unbiased" main stream media. Remember these rush to judgements, Covington Catholic students, Kavanaugh hearings, Russian collusion, Trayvon Martin "hands up don't shoot", "The Cambridge police acted stupidly", the Duke Lacrosse case, the George Bush national guard fake documents, just to name a few. When Trump said the media was "the enemy of the people" he should have said 'the main stream media is the enemy of the truth'. The press was given Constitutional protection in order to be a check on government power. The MSM is now on the side of big government.  As long as the individuals with government power are part of the progressive socialist left. Alternative media are now doing the job the press was originally supposed to do. Politicians, the MSM and social media platforms are trying to silence and censor alternative media sites. Fortunately for freedom, the alternative media Genie can't be put back in the bottle.
Hate Crime Hoaxes: 10 Campus Stories Debunked in 2017, at foxnews.com. How many do you remember? How about these?, A Brief History Of Hate Crime Hoaxes, at news.com.au.
The Alt-Media Has Way More Fun Than The Mainstream Media, by Charles Hugh Smith, at oftwoinds.com. Excerpt from the article: "The corporate-state media ……job isn't to report any truth that lays waste to the self-serving interests of the ruling elites; their job is to protect the ruling elites by "reporting" politically correct narratives and playing up culturally divisive incidents to distract the masses from any awareness of their political invisibility and lack of financial independence or agency."
"The MSM's other job is to scrub any mass dissent from their "news." So for example, U.S. corporate-state media coverage of the yellow vest movement in France is zero. This is not random; it is all part of skewing the "news" to Meaningless controversies and fawning politically correct / approved narratives stories."
"It's more fun being on the side of free inquiry and meaningful analysis than being on the side of censorship, fear-mongering, propagandistic sowing of discord and the promotion of the corporate-state party line."
OTHER STUFF
The Disappearing Democrat' Scandal, at zerohedge.com. Remember this story? Excerpt from the article: "Imran Awan was an IT guy for congress for many years. He was working for Debbie Wasserman Schultz and other members of congress. In the heat of the 2016 election, actually the same week that the DNC was hacked, Congress' own internal police caught him hacking Congress. so although he was the IT guy, he was taking much more data than he should have had access to, impersonating members of Congress, and logging into their accounts and so on, and shuttling data off the House network and taking steps to hide what he was doing."
Do You Believe In The Deep State Now?, at zerohedge.com. Call it what you will, the deep state, bureaucratic insiders, the Washington establishment, the administrative state. The deep state's former FBI director Andrew McCabe admits they were working to get rid of Trump. Why? Because he was an outsider who wasn't going to play their game. Trump stated he wanted to 'drain the swamp'. He was and is perceived as a threat to their power. What they don't understand is that it isn't Trump who is a threat to their power, it is the individuals who voted him into office who are the threat to their power. These actions by establishment insiders and the main stream media are producing an unintended consequence. Increasing numbers of people are beginning to clearly see the threat to individual freedom is the D.C. establishment.
Sheriff Calls Concealed Carrying Bystander A "Hero" For Shooting Man Who Killed Wife At Dental Office, by Dan Urbanski, at theblaze.com. Did you hear about this in the MSM? This concealed carrier shot and held the suspect until cops came. And he did it without shooting an innocent bystander.
The Real Resistance: Washington State Sheriffs Refuse To Enforce Unconstitutional Gun Laws, at zerohedge.com. The real resistance against tyranny.
Who-D A-Thunk It? Panera's Utopia Pay-What-You-Want Restaurant Model Didn't Work?, by Mark J. Perry, at carpediemblog. No shock to anyone with common sense, people started to eat without paying.
2 Million Syringes Still Missing As San Francisco's Drug Addicts Outnumber High-School Students, at zerohedge.com. I guess Government officials didn't understand that when you subsidize an activity you get more of that activity.
Cash-Desperate Illinois Is Now Taxing Lap Dances, at economicpolicyjournal.com. This is not a satirical headline. In an unrelated story: Moodies Warns Illinois Governor: New Taxes Will Make More Residents Flee, at zerohedge.com.
Who Owns The $21.5 Trillion Of U.S. National Debt?, at economicpolicyjournal.com. U.S Individuals and Institutions – Here is who owns our debt. U.S. Individuals and institutions – 39.5%, U.S. Social Security Trust Fund – 13%, Federal Reserve – 10.8%, U.S Civil Service Retirement Fund – 4.3%, U.S. Military Retirement Fund – 3.5% for a total of 71.1%. The remaining 29% is owned by foreign countries, with China holding the most at 6.2%. Is it possible to pay this back when you consider that we are adding about $1 trillion to the national debt every year?
SATIRICAL HEADLINES
Nation's Liberals Devastated After Learning Hate Crime Didn't Actually Happen, at babylonbee.com. Excerpt from the article: "Candlelight vigils are being arranged in liberal cities across the country as millions mourn the loss of one of the most potentially divisive crimes in the last decade. "There was so much promise there. Now there's just emptiness," said one mourner in Berkley, CA."
Conservatives Accused Of Making Liberals Look Bad By Simply Reading List Of Things Liberals Believe, at babylonbee.com.
10 Ways You Can Drastically Reduce Your Carbon Footprint This Very Instant, at babylonbee.com. Here are a few. "1) Kill Yourself. 2) Kill A Friend Or Family Member. 3) Have An Abortion, See #2. 4) Cut Your Breathing Back To Once Every 7 Minutes."
"We Must Treat The Constitution As If It's Alive," Says Man Who doesn't Treat The Unborn That Way, at babylonbee.com.
CARTOONS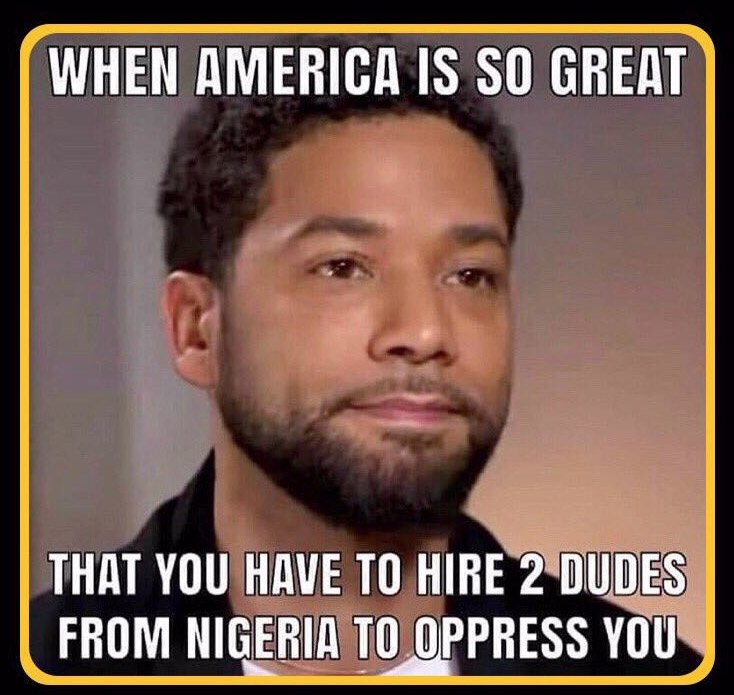 Explore posts in the same categories:
Must Reads For The Week
This entry was posted on February 19, 2019 at 1:07 am and is filed under Must Reads For The Week. You can subscribe via RSS 2.0 feed to this post's comments.
Tags: Alternative Media Censored, Cartoons from theburningplatform, Concealed Carry Hero In Dental Office Shooting, Deep State, DNC Hack, Fake News, Illinois To Tax Lap Dances, Imran Awan and Wasserman Schultz, Jessie Smollett Hate Crime Hoax, Mainstream Media Pushes Hate Crime Hoax, McCabe Admits FBI Acted To Get Rid Of Trump, Penera Bread Pay As You go Restaurant closes, Residents Fleeing Illinois High Taxes, Satirical Headlines from The Babylon Bee, social Media Platforms Censor Alternative Media, Syringes Missing In San Francisco, Washington State Sheriffs Won't Enforce Unconstitutional Gun Laws, Who Owns Our $21.5 Trillion National Debt
You can
comment below
, or
link to this permanent URL
from your own site.